About a month before the Grumpire launch, Elbee and I were goofin' off, drivin' around, when for some forgotten reason, probably a wordfart, I said "Draculene"…Gasped, paused, then proclaimed that I would design a shirt/poster of whatever this Draculene would be. Over the next few weeks I culled together ideas and milled over references and techniques utilized by some of my favorite artists, and finally got to work. The result of which is this image right here: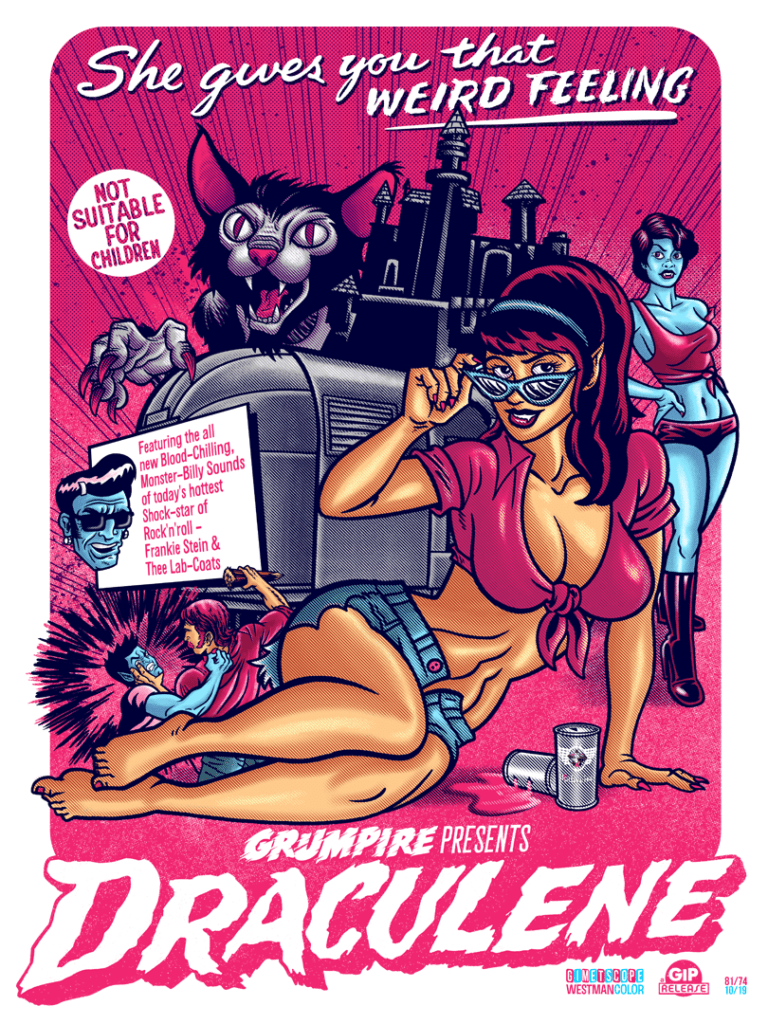 Now that looks like one humdinger of a movie, doesn't it? It would go something like this:
Draculene is the Step-daughter of Dracula. Her mother recently married into the Dracula name and mysteriously perished. She has a wicked rivalry with Dracula's actual daughter. Soon Draculene is kicked out, and left to her own devices…and WHAT devices they are! She sidles up to local handy man, Chip Van Hunksing (that's what she calls him anyway) and plans her revenge on Dracula by throwing a huge kegger at Dracula's castle! Along the way she encounters jealous vampires, slightly un-terrifying werecats and the monster-billy stompin' sounds of Frankie Stein & Thee Lab-coats. She's only a little bit vamp, but a whole lotta tramp.
Now don't you wanna watch that flick?!? Well, you can't! You can only ogle the design, which is quite a departure of my usual work, what, with all the sexxy ladies featured. And I gotta tell you, from the get-go, Elbee heartily encouraged the wrong-side-of-the-sexy-tracks of it all. So, if you like this as much as we do, please don't hesitate buying one…and while you're at it, pick up a shirt or sticker of the Grumpire logo! We'd certainly appreciate it.