Looking back at the Teenage Apocalypse Trilogy has been a real treat for me. While The Doom Generation is the only one of the three films I saw back around the time it was released, I've developed an affinity for the whole trilogy, as well as the great filmography of both filmmaker Gregg Araki and star James Duval. This retrospective has afforded me the opportunity to dive into the influence The Doom Generation had on me and to talk to both Gregg and James, two of my favorite people in the film world. You can check out the introduction piece that focuses on the series and specifically on Totally Fucked Up here and the discussion of The Doom Generation coupled with my interview of Gregg in the form of a special Grumpire podcast here. Below is my final piece on the trilogy in the form of some thoughts on Nowhere and an informal video chat with James. – JUSTIN HARLAN
NOWHERE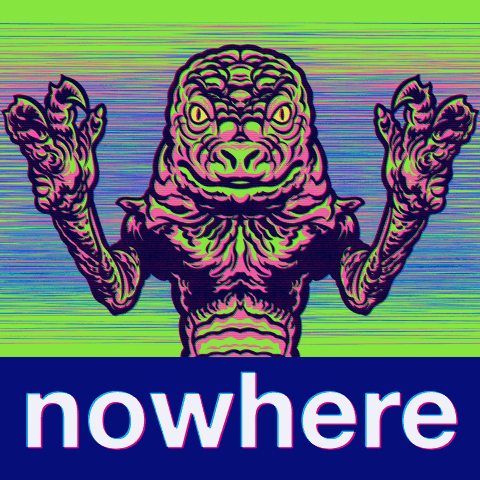 The Doom Generation is surely a unique and singular film, but somehow Nowhere ups the ante. With a cast of young up-and-coming actors on the verge of becoming mega stars of Hollywood, we begin with a regular day-in-the-life setup, and moving forward, the film introduces a variety of situations that call reality into question. The group of LA college students goes about their unique daily lives, and all the while an alien infiltrates the story. In the end, we're left with a blood-covered antagonist and jaws on the floor.
Along with Duval, who plays the central character in each film of the trilogy, the cast is jam-packed with a veritable who's who among young Hollywood of the late '90s. While Duval's lead character in all three films is different, he creates a persona of a brooding and angsty yet caring young man whom he portrays in all three films. Here he is known as Dark, and his co-lead and romantic interest is Mel (Rachel True). As with previous films, the sexuality and sexual preferences of the main characters and many in the periphery are relatively fluid, including those who are bisexual, homosexual, and/or ambiguously defined.
The rest of the teen cast includes Ryan Phillippe, Christina Applegate, Jordan Ladd, Debi Mazar, Mena Suvari, Denise Richards, Guillermo Diaz, Kathleen Robertson, and Baywatch's Jaason Simmons. Dark's mom is played by Beverly D'Angelo, Christopher Knight (The Brady Bunch) does a cameo, and John Ritter is a televangelist. Minor roles and cameos from others include Traci Lords, Rose McGowan, Shannen Doherty, Eve Plumb, Charlotte Rae, and Gibby Haynes (of Butthole Surfers). Gregg noted in our interview that bringing in cameos from a variety of older TV and film stars was meant to enhance the dreamlike quality and/or questioning of reality within the film's world. Gregg himself even voices a character towards the end of the film.
In other words, Nowhere is a mindfuck, a weird and wonderful trip. Its surreality and dreamy feel are the perfect end to the trilogy, a series of films that begins with a lo-fi look into the lives of outsiders, progresses through a trio of outsiders who become outlaws and have to live life on the run, and ends with a similar group of kids as they've grown a bit older but don't really know what's real and what's not. The themes of alienation, growing up in a "fucked up" world, and trying to find oneself are all present throughout. As Nowhere ends in a bloody, confused mess, it's not entirely easy to decipher what – if anything specific – Gregg and company are trying to say. What is certain is that Nowhere's ending serves to remind us that nothing is truly as it seems and that the answers to life's questions are rarely easy.
A CHAT WITH JAMES
Dark describes LA as "Nowhere"; he says, "Everybody who lives here is lost." In a way, this is a central idea of the whole trilogy. As noted above and in previous installments of this retrospective series, the characters in all three films seek to find themselves in some way… or at least most of them do. Our central characters are generally young, disillusioned outsiders who seem to be trying to figure out where they fit in in both their small groups and the larger world. 
What is more Gen-X than the idea that we're all lost and searching for home? There's a false nihilism that many Gen-Xers put forth, acting as if they don't care what others think or who others think they are. Yet, there's always something underneath, a longing for something more. The Teenage Apocalypse Trilogy is all about coming of age in the world that Gen-X was forced to face. While the world has changed, the message resonates… and I'd be hard-pressed to find Millennials and modern teens who couldn't relate to something in these films. Though, I'm not sure I'll be showing my 14-year-old any of them just quite yet. ★
Further reading:
Gen-X Essentials
Grumpire Interviews! Gregg Araki